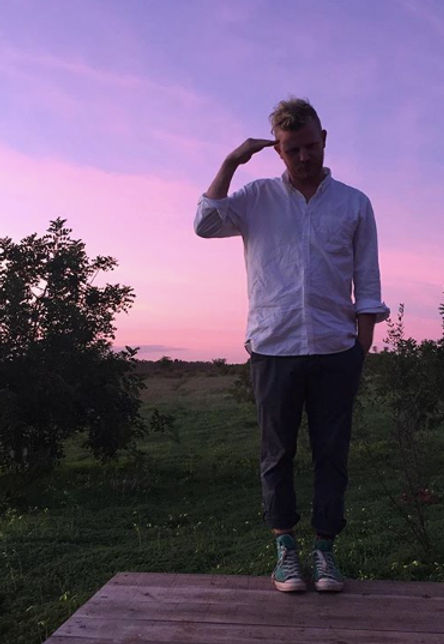 Tom Leamon (b.1981), is a London born Painter. His creations are an experiment into release, expressions of freedom in an altogether constrained world. Tom's work delves into that of the human psyche, with a fascination in the cycle of birth, life, growth and death. There are stories being told in each and every piece, hidden and fractured messages which implore you to fully immerse yourself. Exploring symbolism in a number of mark making techniques Tom's works challenge on both a sentimental and spiritual level.
Tom's artistic journey really began soon after leaving university where he set up the art collective 'Us So Far'. With a lack of opportunites to show with established galleries the group took on derelict buildings all over the UK, where they would curate unique exhibitions. This avenue into the art world enabled Tom to inhabit the realms of both a full time artist and curator. It was in 2004 that he was given a yearlong bursary to work at Red Cow Studios where he created a collection for his first solo exhibition. This leg up enabled Tom the time he so desperately needed to find a serious voice within his own work. The following years were extremely prosperous, with numerous solo exhibitions and a number of very well received curatorial events.
Tom now lives between London and Portugal working predominately at The Beekeepers artist retreat and Estudio Yucca (Portugal). Tom continues to hone his skills creating new and challenging bodies of work. Now exhibiting internationally Tom has followed the success of his solo exhibition at Merzbau Gallery (Miami) 2016, exhibiting in 2017 at ArtRio (Rio De Janeiro) and a solo show at Copeland Gallery (London). In 2019 Tom exhibited new works in a solo exhibition entitled Stories from the Surgery, at Casa Independente Lisbon (Portugal) and with Frameless Gallery at Untitled Art Fair Miami. In the summer of 2021 Tom is preparing to unveil his most recent collection in an interactive solo exhibition entitled On The Spectrum.
Tom Leamon Previous Exhibition List